"There was another island near here, where an amusement park was built over the bones of an abandoned one. "Spared no expense", as Hammond would say. "A biological preserve". Yeah, you may have heard about it. At least... the stuff that wasn't classified."

- Dr. Ian Malcolm
Isla Tacaño is an island in the Muertes Archipelago, located south east of Isla Sorna and west of Isla Pena. Although the island's climate is generally agreeable, it has been known to experience heavy storms on occasion.[1]
History
In the 1980s, the islands of the Muertes Archipelago, including Isla Tacaño, were purchased from the Costa Rican government by InGen, in a 99-year lease which also covered the neighbouring Isla Nublar to the east.[2] Although InGen was not known to operate a facility on Isla Tacano, Costa Rican fishermen were apprehensive about the entire island chain.[3]
Description
Layout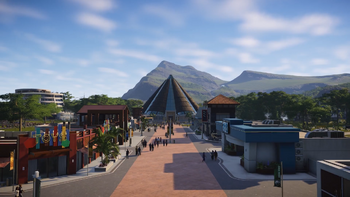 "Isla Tacaño is a tropical paradise and well suited for establishing your operations. The weather is generally idyllic, but it can occasionally be hit by severe storms and even twisters."

- In-game description
Located south east of Isla Sorna, the mountainous Isla Tacano is the second smallest island in the Muertes Archipelago, dominated largely by peaks and highlands. The area of Tacano available to the Hammond Foundation for Jurassic World operations is located on the banks of the island's lake, in the relatively flat south east of the island.[4][5]
Unlocks
Dinosaurs
Gallery
Trivia
Isla Tacaño is unlocked in Jurassic World Evolution with a three star facility on Isla Muerta.
When you start on Isla Tacaño, you start with a negative balance and lose money fast.
References
Further Reading